Micro-chemical chip is several-centimeter squared glass substrate with channels of few tens to few hundreds micrometer. Chemical manipulations such as mixing, reaction, separation, detection and synthesis can take place in the minute sections of each channel.
When chemical processes shift from laboratories and factories to a micro-chemical chip, energy and space is used much more effective. By using the Integrated Chemistry Lab (ICL), an expectation rises to enhance technological advancement.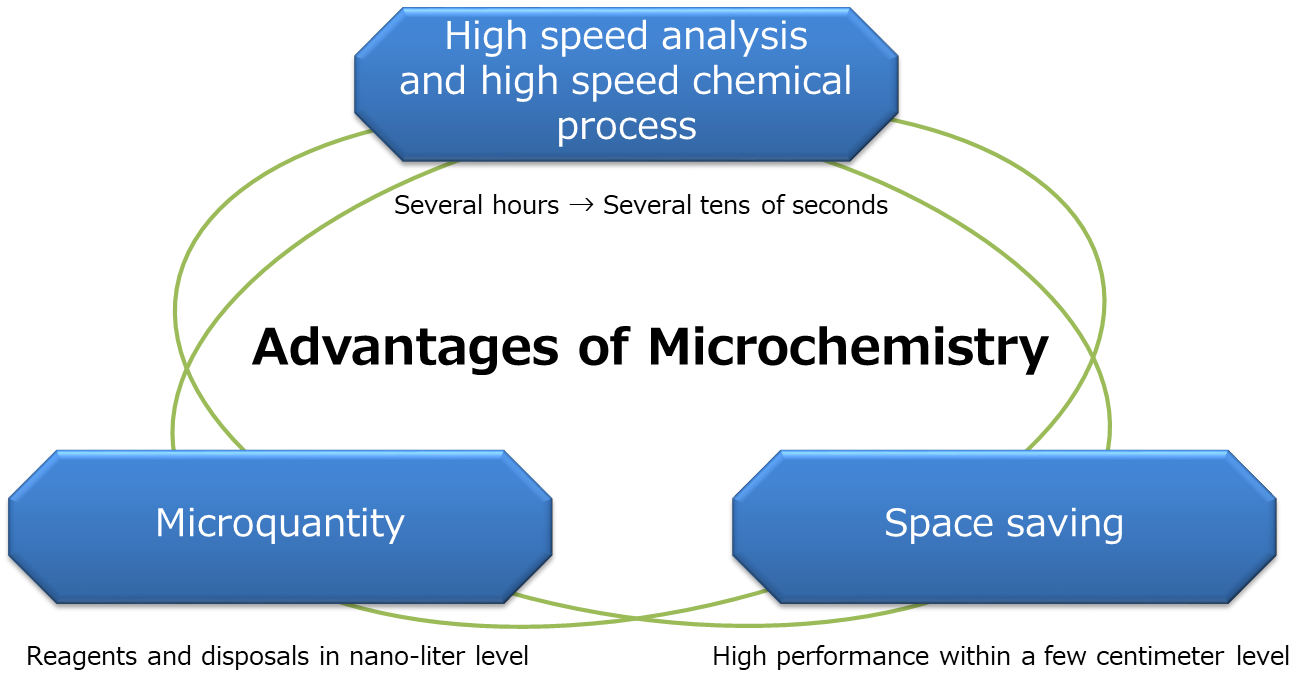 1.Accelerated Reaction

In a microscopic space like a channel of some to hundreds of micrometers deep, chemical reaction is much faster than in the macroscopic scale, mainly because the reactant molecules come close to one another, and come into contact with one another in large areas for their respective volumes.
For example, it has been reported that antigen-antibody reaction, a type of chemical reaction that is used in laboratory tests, was more than 100 times faster in a microscopic space than on a known microtiter plate.

2.Integrated Operations

A pattern of different microscopic channels for different chemical operations––mixing and reaction, extraction, separation, etc.––formed on a substrate allows you to perform the operations quickly and continuously as a flow. Glass, silicon, plastic, and other substrates can be used. Such a system with multiple chemical steps integrated on a small chip is easy to handle, even if a complicated procedure is involved.

3.Compact Size, Minute Volumes

Through the channel with a depth of some to hundreds of micrometers, only a minute volume of fluid, on the order of pL (picoliters) to L (microliters), flows. The micro-chemical chip is a substrate with such microscopic grooves created in it. The size of the chip itself can also be small, for example, several centimeters along each side. These compact-size and minute-volume features will help downsize systems for chemical operations and analyses, currently performed in laboratories, to easily portable dimensions. Furthermore, low sample and reagent consumptions lead to the saving of valuable samples and the reduction of harmful waste liquid.

4.Efficient Synthesis

Organic synthesis on a micro-chemical chip has also been attempted. This approach is advantageous not only in that the chemical reactions are rapid owing to the microscopic-space effect, but also in that it is easy to adapt the system to various reaction conditions such as exothermic and endothermic conditions. Since the reactions occur through a one-way flow, furthermore, it is unlikely that the product meets a starting material and reacts with it to form a by-product. Although synthesis of a sizeable amount of a compound requires many chips due to the limited capacity of each single chip, this is not a disadvantage but rather an advantage that could not be achieved with macroscopic synthesis systems: Once you have established reaction conditions on a chip, you can scale up the reaction simply by increasing the number of chips.

A micro-chemical chip is a several square-centimeters glass substrate modified with few dozens to few hundreds of micron channels. Inside this tiny space of the channel, chemical manipulations such as mixing, reaction, separation, detection, and/or synthesis are performed. This new technology is expected to contribute largely to the future science technology by miniaturizing the process that has been operated at laboratories or factories. This will let us use the energy and the space much more efficiently. Micro-chemical chip can be applied to various fields including chemical, biotechnology, medical, environmental, agricultural, forestry, fisheries, food industries etc. For example, we believe development of custom made medical analysis devices or health monitors is also possible using our micro-chemical chip technology.

Scenario 1: Real time diagnostic appliance

Scenario 2: A handy stress checker diagnosing saliva

Scenario 3: Integrated chemical lab